Labor Day weekend projects
We got so much accomplished this weekend! Warning, lots of pictures below, so I apologize if your computer is slow to open this post.
We started our projects on Wednesday night by bleaching the wooden posts on the front porch. The post you see in the back left side of the picture is what they looked like before, and the front post is what they looked like after bleaching. It's recommend that you give the wood 48 hours to dry before staining, so we started this project early and worked on it Wednesday and Thursday evenings after work. The best part of this project was the instant gratification! As soon as we put the bleach on the wood it changed colors. It was so easy and such great results that I'm looking around the house for wood to bleach. Hurry, someone take the bleach away from me!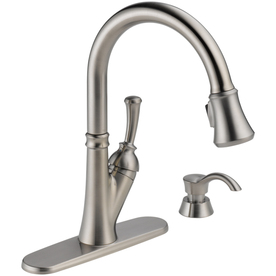 Sorry, my sink is full of dishes, but this is what our new faucet looks like.
We have been window shopping/researching a new kitchen faucet for months. Our old faucet was a cheap/generic chrome facet with a white sprayer on the side. It was not attractive! The sprayer had been broken for more than a year so it was just dangling and allowing water to get under the sink. We were intimidated by the idea of changing a faucet by ourselves, but after watching a few instructional video's online we were ready to tackle this plumbing project. We ended up going with the
Delta Savile
after reading a couple hundred reviews of many different faucets. We played with the faucets on display at the stores many (many) times and were quite pleased with this one, but the selling points were that this one has a magnet to hold the sprayer in place when not in use and all Delta faucets are insured for life.


When we bought this house it sat in the middle of a pie shaped piece of grass...just grass, nothing else. Last year we built a 12' x 24' deck and closed in the back yard with a 6' privacy fence. It provides 0% privacy from our neighbors (whose houses all sit higher than ours) but it does keep Mya trapped in. This weekend we decided to add a little charm (?) to the front of the house.
We got up early Sunday morning and waited for the sun to come up. With the first rays of light we went out and starting digging up the yard. We took a break long enough to go to church, and then were right back at it. The end result is this beautiful flower bed. (keep reading, it looks prettier in later pictures) We planted four bushes that I think will fill in the area quite nice after they are grown. Bonus: we already had the bricks stacked up the garage! We chose to save some money and get smaller bushes and after I started digging the holes to put them in I was so thankful we were cheap and went with small plants!
Remember
Betty
? We named this tree Betty because she is a Cleveland Pear and she will have white flowers in the spring. Betty WHITE stars on the show Hot in CLEVELAND....ta da....out tree is named Betty :) She is doing well, staying strong and healthy and so we decided it was time to make her a more permanent part of our yard. This weekend she got updated with some bricks and flowers. I think she looks mighty pretty!
I told you we built a fence last year, but we since we did not build it until late summer we did not get a chance to stain it before winter arrived. Since you are supposed to let the wood be exposed the elements for 6 months before applying stain, so it got put off until this summer. Does Labor Day still count as summer?
It's still wet in this picture, and it will need another coat of stain, but this gives you an idea of what it looks like. The color is Canyon Brown, but it sure looked like melted milk chocolate in the can! Yum - chocolate!!! This was the project that would never end (and we have to do another coat in a couple weeks - after pay day). Staining the fence took twice as much time as we had planned for. But it looks awesome, and it feels good to finally have some color on all that raw wood!
We used the same stain on the wood posts we bleached earlier in the week. It's amazing that these posts went from dark gray to white to a beautiful deep shade of brown (chocolate!) in just a few days. I'm especially proud of this project and think that it really helps to make our front yard look more finished.
A couple planters filled with bright flowers and this weekend's projects are done!
On our to-do list before the weather turns cold and lose all our motivation:
Paint the wicker chairs on the front porch white. I think white chairs will really stand out with all the brick and chocolate poles we have going on up there.

Put the

hot tub

back out on the deck! We do not use the hot tub in the summer time and since it's a small portable tub we are able to put it away for the summer. We were really wishing we had done this Friday night so we could have used it Saturday night, Sunday night, Monday night....

When you walk down the stairs to exit our deck you step right into the grass, but we would prefer to have a small brick landing there. We have all the supplies to get this job done so hopefully it will happen soon. (I would NOT suggest holding your breath on this one, as we have already been putting it off for a full year)

Find the leak under the sink and then lay contact paper to keep the whole area clean.

We would love to plant another tree. Maybe in the back yard this time?
How did you spend Labor Day weekend?